¡¡¡¡Before browsing, please download and install the Comic Reader(QJReader) software.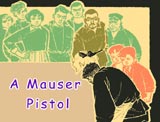 A Mauser Pistol



A Murdering Case on Sam Street
Pictured by Luo Xixian

The Soles in the Ore
Pictured by Lu Wen

A Rush Man
Pictured by Fei Shengfu

Three Wrongly Judged Cases
Pictured by Yang Qinghua, Yang Jiuhua

The Jade Spring
Pictured by Gu Bingxin

The Watch
Pictured by Hua Sanchuan


¡¡¡¡¡õYoung Chinese generations' art works. The teenage authors learned a great deal from the west, and integrated the western drawing skills and styles with Chinese traditional drawing skills.
| | | | |
| --- | --- | --- | --- |
| Smoke | Subtle Brain | Lady Morning | Go to School |
| | | | |



Mao Sui Recommend Himself
The original Chinese idiom:
"Mao2 Sui4 Zi4 Jian4": "Mao Sui", a guest of Zhao Sheng in Zhao Kingdom during the Warring States; "zi", oneself; "jian", recommend. It means to recommend oneself to do something without others' recommendation.