¡¡¡¡Before browsing, please download and install the Comic Reader(QJReader) software.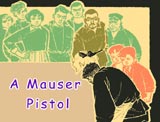 A Mauser Pistol



Ghost Bridegroom
Pictured by Pan Honghai

A Strange Thing
Pictured by Wang Guanqing

General Peng Dehuai
Pictured by Shen Yaoyi

Ghost Bridegroom
Pictured by Pan Honghai

The Lovers in the Dragon Palace
Pictured by Liu Wangbin

Xiao Cui
Pictured by Yang Yuqing


¡¡¡¡¡õYoung Chinese generations' art works. The teenage authors learned a great deal from the west, and integrated the western drawing skills and styles with Chinese traditional drawing skills.
| | | | |
| --- | --- | --- | --- |
| Cool | Happy | Miss Mohen | Delicate |
| | | | |



A Poor Imitation With Ludicrous Effect
The original Chinese idiom:
"Dong1 Shi1 Xiao4 Pin2": "Dong Shi", an ugly girl's name; "Xiao", imitate; "Pin", frown.