¡¡¡¡Before browsing, please download and install the Comic Reader(QJReader) software.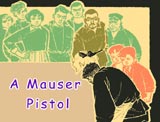 A Mauser Pistol



A Princess¡¯ Feather Dress
Pictured by Pang Bangben

Qing Niang
Pictured by Chen Huiguan

Red Stone (5) Burning Hearts
Pictured by Han Heping, Luo Pan, Jin Kui, Gu Bingxin

The Adventure of Rabbige
Pictured by Lu Chengfa, Lu Xiaodi

Mr. Dongguo and His Donkey
Pictured by Liu Duan

Sapphire
Pictured by Zhuang Hongxing


¡¡¡¡¡õYoung Chinese generations' art works. The teenage authors learned a great deal from the west, and integrated the western drawing skills and styles with Chinese traditional drawing skills.
| | | | |
| --- | --- | --- | --- |
| Let's Jack Up | My GF | Having Fun | Eyes of Demon |
| | | | |



Work Selflessly for the Public Interest
The original Chinese idiom:
"Ke4 Ji3 Feng4 Gong1": "ke", restrict; "ji", oneself; "feng", take for important; "gong", public interest.