¡¡¡¡Before browsing, please download and install the Comic Reader(QJReader) software.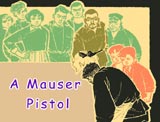 A Mauser Pistol



A Beautiful Girl
Pictured by Zhang Wei

A Man Without Shadow
Pictured by Gu Pan, Pan Honghai

Lotus Lantern
Pictured by Ren Shuaiying

The Soles in the Ore
Pictured by Lu Wen

The White-Hair Girl
Pictured by Hua Sanchuan

The Story of Horse-Head-Shaped Qin
Pictured by Cheng Shifa


¡¡¡¡¡õYoung Chinese generations' art works. The teenage authors learned a great deal from the west, and integrated the western drawing skills and styles with Chinese traditional drawing skills.
| | | | |
| --- | --- | --- | --- |
| I Love the Sky | Look back to Shame the Flowers | Gongfu 2 | Thinking |
| | | | |



Get Ready for Battle
The original Chinese idiom:
"Li4 Bing1 Mo4 Ma3": "li", grind; "bing", weapon; "mo", feed; "ma", horse.