¡¡¡¡Before browsing, please download and install the Comic Reader(QJReader) software.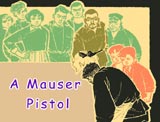 A Mauser Pistol



Bai Qiulian
Pictured by Yan Meihua

My Father Deng Xiaoping (2)
Pictured by Ye Xiong

The Story of Horse-Head-Shaped Qin
Pictured by Cheng Shifa

Ten Brothers
Pictured by Zheng Jiasheng

A-Bao
Pictured by Zhang Wei

Copernicus
Pictured by Poland


¡¡¡¡¡õYoung Chinese generations' art works. The teenage authors learned a great deal from the west, and integrated the western drawing skills and styles with Chinese traditional drawing skills.
| | | | |
| --- | --- | --- | --- |
| Forward | Miss Dragon | Angel | Book Cover |
| | | | |



There Can Be No Turning Back
The original Chinese idiom:
"Jian4 Zai4 Xian2 Shang4": the arrow is on the bowstring, and you must shoot it out. It means that you have no choice and have to do that. "jian", arrow; "zai", be; "xian", bowstring; "shang", on.