¡¡¡¡Before browsing, please download and install the Comic Reader(QJReader) software.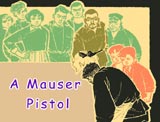 A Mauser Pistol



Copernicus
Pictured by Poland

Love
Pictured by Xia Shuyu,Ling Tao

The Regretting Birds
Pictured by Pu Huihua

The Soles in the Ore
Pictured by Lu Wen

A Small Mirror
Pictured by Lu Wen

A Princess¡¯ Feather Dress
Pictured by Pang Bangben


¡¡¡¡¡õYoung Chinese generations' art works. The teenage authors learned a great deal from the west, and integrated the western drawing skills and styles with Chinese traditional drawing skills.
| | | | |
| --- | --- | --- | --- |
| Iraq Conflict | Girl Spirit | Innocent | Live Alone |
| | | | |



Feel Nervous and Uneasy
The original Chinese idiom:
"Mang2 Ci4 Zai4 Bei4": "mang ci", sting; "zai", on or in; "bei", back. It means feeling uneasy and like having stings in the back.