¡¡¡¡Before browsing, please download and install the Comic Reader(QJReader) software.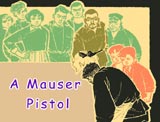 A Mauser Pistol



Ghost Bridegroom
Pictured by Pan Honghai

Tarzan the Ape Man (8)
Pictured by Huang Yunsong, Zhang Changxun, Pan Honghai, Qian Guisun

The Lovers in the Dragon Palace
Pictured by Liu Wangbin

The Sword of Qin Shi Huang (2)
Pictured by Kong Cheng,Meng Xiang

No Waste
Pictured by Shen Meifang

My Father Deng Xiaoping (3)
Pictured by Ye Xiong


¡¡¡¡¡õYoung Chinese generations' art works. The teenage authors learned a great deal from the west, and integrated the western drawing skills and styles with Chinese traditional drawing skills.
| | | | |
| --- | --- | --- | --- |
| Left Eye 1 | My Family | Final Fantasy | The Eye |
| | | | |


Pool the Wisdom of the Masses
The original Chinese idiom:
"Ji2 Si1 Guang3 Yi4": "ji", pool or collect; "si", wisdom or opinion; "guang", gain greatly; "yi", good effect.