¡¡¡¡Before browsing, please download and install the Comic Reader(QJReader) software.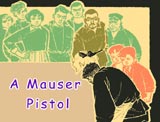 A Mauser Pistol



A Singer
Pictured by Cai Renyan

Miss Hong Xian
Pictured by Lu Yan'guang

Eighty Days¡¯ Travel around the World
Pictured by Huang Yunsong, Zhang Changxun

Wan Xia
Pictured by Hu Bozong, Gao Yun

Story of Gorky---Childhood
Pictured by Dong Hongyuan

Wang Zhaojun
Pictured by Xu Youwu


¡¡¡¡¡õYoung Chinese generations' art works. The teenage authors learned a great deal from the west, and integrated the western drawing skills and styles with Chinese traditional drawing skills.
| | | | |
| --- | --- | --- | --- |
| Goddess 2 | Chen Peisi(actor) | Tie | Spirits in Woods |
| | | | |



Speed is What Counts in War
The original Chinese idiom:
"Bing1 Gui4 Shen2 Su4": "bing", troops; "gui", important; "shen su", rapid or high speed.